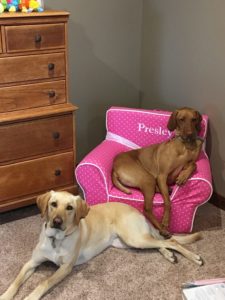 Our Story
The Farm at Flint Creek opened its doors in August of 2018. The Farm is owned and operated by Emily and Lee Martin of Veedersburg, IN. The Farm started as just a dream that slowly turned into a reality. Lee and I have always had a love for animals. There is not a day in my life that I can remember spent without having pets. I've grown up with dogs and cats my entire life. Currently we have two dogs (Gibbs, vizsla and Allison, yellow lab) and three cats (Kitty, Mama, and Tiger).
In October of 2015, research and planning for this business went into overdrive as the seemingly perfect location was up for sale. When we happened to see the property for sale, it never once crossed our minds that just three years later we would be open for business. Lee and I felt the area could use an "all-inclusive" kennel concept with a country vacation feel for the animals. After two years of nonstop research, traveling to different boarding facilities for information and tours over multiple states, taking classes and attending the annual Pet Expo in Pennsylvania, we felt ready to take on our dream. The Farm's number one priority is the comfort and safety of your loving pets. We not only want your pet to want to come back to our facility, but we want to make sure you feel 100% comfortable leaving your pet in our care. We vow to treat your fur baby as if they were one of our own.
Meet Our Leaders
Emily Martin (owner) is our first pack leader to introduce. Emily grew up in a small house in the country alongside her mom, dad, and sister. They always had dogs and cats where they lived and her sister and her were always bringing home more. To say that they were suckers for strays would be an understatement. Emily has been around animals her entire life and always dreamed of being able to turn her love for animals into a career. She attended Purdue University where she graduated in 2011 from the College of Agriculture.  Lee and Emily married in 2016 and currently live in a farmhouse, in Fountain County, where Lee farms corn and beans alongside his dad and brother. In July of 2017, they had a baby girl, Presley, who is the light of their lives. Emily cannot wait to share her love for animals with her little girl and looks forward to teaching her kids what a true honor it is to experience the love of a pet. Emily looks forward to meeting all of your fur babies and loving them as her own.